Bubba's budget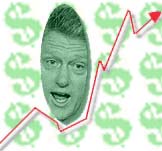 Sure, President Clinton's brand spanking new $1.7 trillion budget includes the usual billions for weapons, welfare and highways, but here are some of the package's more revealing spending proposals:

$89,000 for Starbucks coffee. ("Good to the last dime.")
$64,000 for Bill and Hill look-alikes, for when the process servers show up at the White House looking to make special deliveries...
$134,000 for towels. (They keep disappearing from the Lincoln Bathroom.)
---