Exclusive!
---
Muse Poll Closed
---
Thanks to all who participated in the first-ever quadri-annual super-duper Daily Muse poll. Now go vote for real...

Muse Mascot
Mascot tops Perot in poll;
(Bubba bests Bobster in top tier)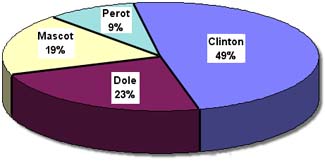 A Daily Muse poll Wednesday gave President Bill a commanding 26-point margin over Republican Bobdole, but a newcomer shows surprising strength at the bottom of the pack.
     Clinton's 49-23% lead is hardly a shock--tracking results of other recent national polls.
     But the Muse Mascot's 19% showing among DM readers--topping Reformer billionaire Ross Perot's 9% share--was hard to explain, given the last-minute nature of the dog's campaign.
     "We're still rechecking the numbers to make sure this isn't a mistake," said Nielsen Gallup, who tabulated the results of the ongoing tally. "But at this rate--if he doesn't stop to take a nap--the Mascot could overtake Dole."
     The Muse Mascot, running a bare-bones campaign, was scurrying to get enough petitions signed to qualify in 14 key states.
     Spokesmen for the other three campaigns could not be reached for comment on the poll, but legal challenges to the Mascot's candidacy are expected.