Cut the cheese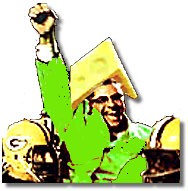 Vince Lombardi, brought back to life in computer-Krafted Cheese Whiz ad aired during Super Bowl.
     Don't get us wrong. The Green Bay Packers deserve their victory of victories. But Sunday's game, legend-in-the-remaking as it was, left a bit to be desired.
     For one thing, actual competitive play seemed to last about 24 minutes--not bad, about twice as long as most of these so-called super events, but about twice as long as Fox's post-post-game show.
     And for a while there, the contest was even more interesting than those $4-trillion-per-millisecond commercials (featuring beer, Cindy Crawford's mole, beer, transvestites, beer and Oscar Mayer's weiner--ah, America at its finest--not to mention beer).
     But once James Brown and the Blues Sisters ("we're white and we sound like it") were hauled off the field, the evening's entertainment value was gone.
     Oh well, there's always Super Bowl X0X0X0...
---