Very impressive...
---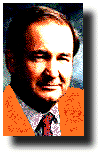 It didn't take long for Republican second-runner Pat Buchanan to give the boot to Larry Pratt after it was reported that his campaign co-chairman had been seen at meetings organized by white supremacists and other right-wing types. Though he said he believed Pratt's declaration that the charges were "vicious and false," Buchanan said the official "stood aside" so he wouldn't be a "distraction to the campaign" and its nothing-can-stop-us-now momentum.
Pratt, for his part, cried politics and denied charges of racism, saying he thought the fellas in white sheets and brown shirts he saw at those meetings were just making a fashion statement.
---
A hate-love relationship
Republican agitator Pat Buchanan is protesting his hate for X-Klansman David Duke so much, we're beginning to suspect something is amiss. In recent days, Buchanan has shed a handful of campaign workers with ties to Louisiana's Duke, founder of the National Association for the Advancement of Moronic Individuals (NAAMI). "We don't want anybody in our campaign who's associated with any organization today that is a racist or has any ties to these groups which I find deeply offensive," Buchanan told reporters in Arizona, where he was pricing chain-link fencing for a proposed help-our-southern-neighbors project along the Mexican border.

Duke announced he's running for the U.S. Senate, as a Republican, fueling speculation he's grooming himself to be Buchanan's veep when they kiss and make up later down the road.
---
Is a small avalanche 'The Big 'Mo'?
Was Pat Buchanan's presidential campaign finally on the move? The conservative Republican commentator certainly hoped so. With an Alaska straw poll victory under his belt, the Patster was praying this would be the beginning of the beginning on his long road to the White House.
"If you can win Nome, you can win anywhere," he was thought to think.
---
---
The Daily Muse Front | Dolesville | Forbes | President Lamar | Page 2 | Whitewaterworld | Sporting Muse | The Back Page | Muse Archives | 1996 | Bill Gates@NBC | Lost O.J. Interview | Feedback | Write | Soliciting