Peek-a-Bopp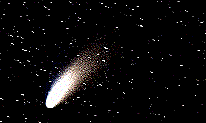 We don't believe it. Do you?
     Just when you thought life couldn't be more boring, along come Do, a dear, and his Heaven's Gaters to make our day...
     Lost in the media frenzy are a few thoughts we cannot keep to ourselves:
The producers of The X-Files, Millennium and Jenny Jones have an easy week...
However, Hollywood, feeling guilty about the whole thing, announced it will not release any more silly space alien movies this summer...
With just weeks to go until April 15, were the 39 recently departed souls trying to escape one of life's certainties through another?
President Clinton, wishing to miss no opportunity to show off his foreign-policy prowess, immediately ordered Madeleine Albright to establish diplomatic relations with the Hale-Bopp UFO...
Is it mere coincidence that the Web Hubble telescope went on the blink just in time for NASA to dispute the existence of life behind Bopp?
Is Jack ("Dr. J")Kervorkian franchising?
California is the place we don't wanna be...

     Upload your opinions to: aschnedr@cais.com
---