---
Dawg gone-it
Ripping a page out of Pat ("1-800-me-got-mo-mo") Buchanan's manifesto, Bob ("I'm the front-runner--really") Dole recently slammed big corporations for forsaking workers' job security for the almighty quarterly dividend. "Corporate profits are setting records and so are corporate layoffs," Dole growled in a New Hampshire campaign speech.

Buchanan promptly retaliated by dognapping Leader, Dole's pet Schnauzer.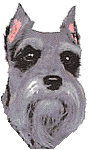 Click here to save Leader (to your screen)
---
The U.S. presidency: A 2-for-1 deal?


Bob Dole, Republican front-runner, needs a push,
so he's reportedly calling up Colin Powell with a deal the X-gen
hopefully won't refuse: making him vice president/co-president.
Dole would be president of the U.S. and
Powell would be in charge of Washington's world affairs–
military and otherwise.
Technicians are already working on a dual-button
nuclear firing system for the commanders-in-chief wannabes.
---
Still waiting to be leader of the free world
A budget agreement between President Bill Clinton
and the Republicans is "probably pretty unlikely," Dole says.
(Covering all the bases, just in case.)

Return to Dolesville, or whatever

Return to The Daily Muse, or whatever
---
Dolesville | Front Page | Worldly Muse | In the Stars | Page 2 | Bubba Muse | Muse Briefs | Science of Life | Museplex | Bizmuse | The Back Page | Extremely Buchanan | Perot | President Lamar | Whitewaterworld | Forbes | Sporting Muse | Muse Archives
| Page 3 | 1996 | Bill Gates@NBC | Lost O.J. Interview | Feedback | Write | Soliciting