THIS JUST IN...
A Fall Fashion Statement From the White House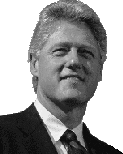 WASHINGTON--The President and Yasser Arafat sat side by side on yellow chairs in the Oval office, each looking at ease, but a bit tired in the morning hour. Arafat wore his trademark black and white kaffiyeh headdress with gray stripes showing on his shoulder.
Arafat wore a light olive military uniform, bereft of ribbons, with only two small gold medals (one circular and one oval) on his chest. He wore boots that appeared to be plain light brown, seemingly closer to the cowboy variety than military boots.

The President wore a dark suit, with a white shirt and blue-patterned tie, dotted in light blue. He focused intently--hands on lap--as Arafat bore the brunt of questioning. The President, a bit heavy-lidded, looked somber as Arafat mentioned the stock "peace of the brave" quote.
A host of Palestinian and American officials, most of whom are regulars in the peace negotiations, sat across from each other on yellow and red-striped couches...
In a meeting with Palestinian media, Arafat answered affirmatively when asked if he got any sleep, gesturing for some reason toward the President, as if giving him credit for this development...
(Excerpts from a press pool report)
---
Return to the Daily Muse home page